Gervais upsets Hollywood royalty at Golden Globes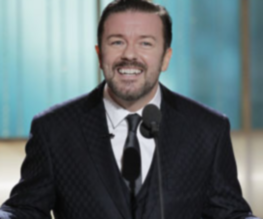 It's not like they weren't warned. Ricky Gervais hosted last year's Golden Globes Awards ceremony – during which he baited Mel Gibson and Angelina Jolie, among others – and when he was invited to return he made it quite clear the stakes would be raised. And so they were, with delicate egos being bruised and world views shaken as stars had to sit there quietly and just take it – almost like real people.
Amongst those cursing the hitherto unrealised limitations of agents and PR companies when confronted with live performers who don't really give a toss were Charlie Sheen ("Welcome to a night of partying and heavy drinking. Or as Charlie Sheen calls it, breakfast.") and Johnny Depp and Amgelina Jolie (again), neither of whom looked particularly in on the joke when Gervais questioned the validity of their much-derided vehicle The Tourist's three nominations (the word "bribes" was mentioned).
The beautiful people lined up to get their own back, however, with Robert Downey Jr calling him "mean-spirited" (bet that hurt) and Tim Allen and Tom Hanks both inferring he was no longer "slightly chubby" or "kind". Eviscerating stuff.
About The Author