GI Joe: Retaliation delayed for 3D conversion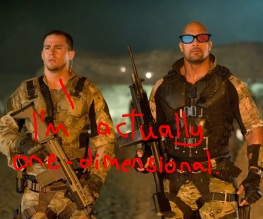 Success! Paramount has found the one remaining way to make its GI Joe franchise even more stultifyingly dull – convert it to 3D.
Forthcoming sequel GI Joe: Retaliation, which stars Dwayne 'stop calling me The Rock' Johnson alongside Channing Twatum as 'Captain Duke Hauser' (no, really), has had its release date moved nine months to allow for post-conversion on the "heart-pumping" "high-octane" "thrill-ride" or whatever, meaning the juicy late-June release that its fan (he's really lonely) was expecting has been replaced by the less summery March 29th 2013.
Seth MacFarlane's bear-based comedy Ted has taken full advantage of the move, swapping its planned release date of July 13th for the juicier June 29th slot. We don't really understand the significance of this, other than it'll mean an extra fortnight in which Ted can make money before the world ends this December.
Could this be the most boring news story ever? Let us know below!
About The Author