Godzilla begins filming, Gareth Edwards is on set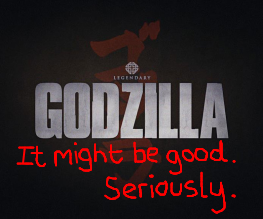 Godzilla is getting a remake, if you didn't know already, and despite it being completely ill-advised, filming has begun. Director Gareth Edwards has uploaded a special message from the set teasing eager Godzilla fans, of which there are now ZERO after Roland Emmerich and Dean Devlin's abysmal 1998 iteration of Godzilla. That being said, we're tentatively hopeful that this latest Godzilla might… just… get it right…? Maybe…?
There you have it. The "Lizzie" Gareth Edwards refers to in the clip is undoubtedly Elizabeth Olsen. The Godzilla progression is in the super-secretive phase at the moment, so it's unknown what role Elizabeth Olsen is playing just off-screen. Also joining the gritty (?) reboot of Godzilla is Bryan Cranston (woo!), Aaron Taylor-Johnson and the sexy Ken Watanabe. This is some good talent. Can Gareth Edward's Godzilla possibly wash away the taint of the last American adaptation?
As long as Godzilla 2014 treats the source material seriously, in the way that Roland Emmerich did not (he reportedly didn't even like Godzilla before he made his 1998 catastrophe), this might be worthwhile. Think about it – no Matthew Broderick pissing about with baby lizards, or giving Godzilla a pregnancy test with an applicator he bought in a street pharmacy. We'll keep an eye on the project.
The fresh attempt at Godzilla is set for a May 2014 release. We have a whole year to get our hopes up before they're cruelly dashed!
About The Author