Gravity triumphs at DGAs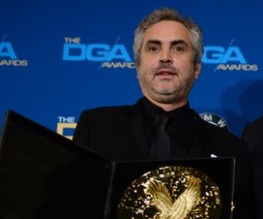 Alfonso Cuarón has picked up the top prize at this year's Directors Guild of America awards for his floaty-Sandra-Bullock masterpiece Gravity, traditionally a reliable harbinger of Oscar glory.
In the sixty-five year history of the DGA, only seven directors have taken home the gong without going on to win the Academy Award for Best Director, and all but thirteen of the DGA-winning feature films have gone one to pick up the Best Picture Oscar. Last year, of course, Ben Affleck took home the DGA award without even being nominated for Best Director at the Oscars, but Argo did end up winning Best Picture.
This early victory gives Cuarón a crucial Oscar advantage over Steve McQueen's 12 Years a Slave and David O. Russell's American Hustle, Gravity's main contenders for this year's Best Picture statuette.
The other main film award went to Jehane Noujaim for The Square, which stormed past The Act of Killing to be named this year's Best Documentary. Steven Soderbergh won Best Movie for Television for Behind the Candelabra, as well as a special award in recognition of his long years of service to the Guild. Show-off Bryan Cranston won Dramatic Series for Blood Money, an episode of Breaking Bad that he directed, whilst Beth McCarthy-Miller picked up the Comedy Series award for an episode of 30 Rock. There were some other awards too, but those were the interesting ones.
With just under six weeks to go until the Oscars (do you think the DGAs ever get sick of being treated as nothing but pre-Oscar fluff?), Gravity's pull is strengthening. Watch this space…
About The Author