Grint and Moretz join The Drummer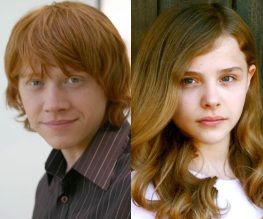 Former child star Rupert Grint and actual child star Chloë Grace Moretz have become the latest additions to the cast of The Drummer, Bottle Shock director Randy Newman's biopic of troubled Beach Boy Dennis Wilson.
Moretz, the star of films including Kick-Ass and Let Me In, will play Jennifer Wilson (Dennis' daughter with his first wife Carole Freedman), whilst Harry Potter sidekick Grint is apparently playing Stan Shapiro, a "mail room intern" at William Morris who befriended the musician during his final years. Precisely how much unpaid experience do you need before you can competently work in a mail room? That probably isn't going to be addressed in the film, so we wanted to start asking the difficult questions straight away.
Aaron Eckhart is onboard as Wilson himself, whilst Vera Farmiga (last seen, inexplicably, in Safe House) will play Christine McVie, the Fleetwood Mac singer/songwriter with whom he had a stormy relationship.
The most interesting part still to be cast is undoubtedly that of charismatic cult leader Charles Manson, who moved into Wilson's house along with his 'Family' in 1968. Watch this space (unless you've recently got married to Roman Polanski, in which case watch your back)…
What do you make of the latest casting news for The Drummer? Let us know below!
About The Author