Hailee Steinfeld for Tommy Lee Jones western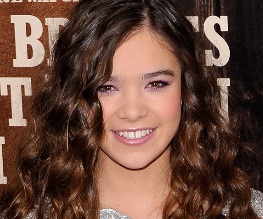 Tommy Lee Jones is directing a Western called The Homesman, and Hailee Steinfeld's in it. That's right, the Oscar-nominated star of Men in Black Tommy Lee Jones is directing a Western, which means it'll probably be pretty good. When it comes to vintage actors getting into the director's chair, we reckon Jones will give Clint Eastwood and Dustin Hoffman a run for their money. Getting back to the point; Ms Steinfeld – also an Oscar-nominee for her turn in the brilliant remake of True Grit – is going to play a young girl called Tabitha Hutchinson. She'll be starring alongside Hilary Swank, Meryl Streep and James Spader.
The Homesman sees an untrustworthy man (Jones) and a school teacher (Swank) team up to transport three women across the Western plains by way of an oxen-drawn carriage. Swank's character has been described as a "spinster", and the three women have been described as "supposedly deranged". What is it with this guy and women? Jones is known for playing grouchy types, and his character in The Homesman isn't likely to be much different. Good for you Tom; stick to what you know.
About The Author