Harrison Ford to star in Anchorman: The Legend Continues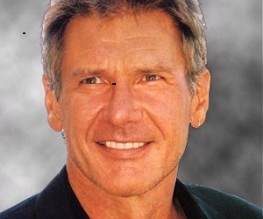 Before reuniting with his Wookiee co-pilot Chewbacca and reprising his role as Han Solo in the 2015 Star Wars sequel trilogy, Harrison Ford is set to try his hand at comedy, playing legendary newsreader Tom Brokaw in Anchorman: The Legend Continues. The Anchorman sequal was written by Adam McKay and Will Ferrell and promises to continue the on-set adventures of Ron Burgundy and the rest of the KVWN-TV Channel 4 Evening News team. Hooray! The old gang are back together again: we can picture it now Paul Rudd, Steve Carrell and Baxter the Dog hangin' out with Harrison, making japes about Christina Applegate's bum…
This will not be Ford's first time behind the news desk: in 2010 he joined BFF's favorite-person-we-love-to-hate Rachel McAdams in JJ Abrams' Morning Glory, in which he played a grumpy newsman who is forced to co-anchor a rubbish breakfast TV show. Other new additions to the ever growing cast of Anchorman: The Legend Continues are James Marsden (playing Ron's rival), John C. Reilly and Bridesmaids star Kristen Wiig.
Ford currently has a few other projects in the pipeline: the Jackie Robinson biopic 42 (which is out April 12), the thriller Paranoia, sci-fi franchise hopeful Enders Game and, of course, INDIANA JONES 5!!
The plot details of Anchorman: The Legend Continues are top secret at the moment, but here at Best For Film we are hoping it will involve Harrison taking a ride with us on a cartoon unicorn, over a rainbow, to Pleasure Town.
Does the thought of Harrison Ford getting down to some jazz flute thrill or horrify you? Let us know below!
About The Author