Hayley Atwell boards the Nautilus for The Return Of Captain Nemo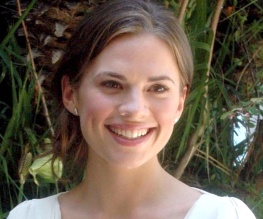 Hayley Atwell, who was last seen charging around after a supersized Chris Evans in Captain America: The First Avenger, is returning to the world of CGI-heavy period sci-fi/fantasy… things. Yep.
The unexpectedly English actress is joining star Hugh 'OH MY GOD, Notting Hill is no longer the highlight of my career!' Bonneville in The Return of Captain Nemo, Pearry Teo's low-budget 3D sequel to 20,000 Leagues Under the Sea.
Atwell will play the film's heroine Sara, the niece of President Ulysses S. Grant's chief adviser (David Morrissey), who unexpectedly springs Nemo from prison so he can attend to a plague of sea monster sinking ships off the US coastline. Cue lots of gadding about in a big ol' steampunk Nautilus (and an 1870s version of Air Force One, apparently – HELLO, shitty Musketeers airships).
The Return Of Captain Nemo, which is scheduled to cost a nifty $10m, is due to start shooting on January 16th – neatly skipping ahead of David Fincher's long-awaited Disney adaptation of the classic Jules Verne original, which allegedly had a $150m budget at some point before its headlong crash into the treacherous reef of development hell. However, an early 2012 shoot could cause some problems for Atwell, who's also been linked to Joseph 'Tron: Legacy' Kosinski's Oblivion (starring Tom Cruise, don'tcha know).
What do you make of Atwell's casting? Let us know below!
About The Author