Hellboy 3 must be done, says Ron Perlman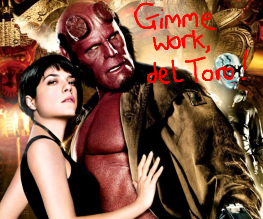 Hellboy 3 has never been formally announced by Guillermo del Toro, but lead Hellboy actor Ron Perlman is stepping up to the plate to demand that his cinematic magnum opus come to a close with a sequel to 2008's Hellboy II: The Golden Army. Surely having nothing to do with his career (which is only intermittently decent), Ron Perlman is trying very hard to get del Toro to commit. He's a busy man these days, Ronny boy.
Speaking to IGN, Ron Perlman said:
"[Del Toro and I] both walked away from Hellboy 2 agreeing that there would never be another one. But, with the passage of time, it became clear to me that he really always designed it as a trilogy. [Guillermo] has a very well-articulated idea of what the resolve would look like and it's amazingly theatrical and is epic in scope and would make for amazing cinema, with or without the first two movies.
I said [to Guillermo], 'You owe it to the world to finish this trilogy' – I've been giving him Jewish guilt."
Hellboy and Hellboy II were fantastic films, and their originality was mostly down to Guillermo del Toro's relentlessly creative direction. We'd love for him to return to Hellboy, but he has a cluttered schedule at the moment, what with Pacific Rim coming out this summer (in which Perlman will appear), and Pinocchio and Crimson Peak in pre-production, not to mention del Toro's proposed Dark Universe DC Comics team-up film. There's certainly no way we would accept any other director at the helm of a Hellboy movie, that's for sure.
Guillermo del Toro has previously expressed interest in continuing the project, but to end on a dour note, Hellboy creator Mike Mignola has continually doubted the idea that there will be a Hellboy 3. Boooooo!
Interested in Hellboy 3? Could another director take over? Who would you like to see at the helm?
About The Author