Hercules release date boldly shifted forward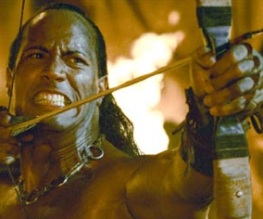 Brett Ratner's Hercules: The Thracian Wars was scheduled for release on 8th August 2014, one week after Marvel Studio's Guardians of the Galaxy and a good three weeks after the releases of the highly anticipated X-Men: Days of Future Past and The Hobbit: There and Back Again. The news this morning is, however, that the studio has decided to shift its arrival in cinemas forward two weeks to 25th July 2014. Which is interesting.
Such a move implies an increasing confidence in the ability of the picture to perform well only a week after X-Men and The Hobbit hit our screens, and it's likelihood to see off competition from Guardians of the Galaxy in its second week. Though still the only title to be announced that weekend, it looks like things will be heating up nicely at the box office with so much action-hero fare available to movie-consumers at the height of the summer block-buster season. Game on.
Only last week it was announced that Dwayne Johnson has gained a sidekick in the form of Aksel Hennie (Headhunters), and this news only increases our excitement at Best for Film towers, both about the potential for Hercules, and about summer of 2014 for cinema in general. Who knows, maybe this ghastly austerity nonsense will be over by then too? PARTY TIME IN 2014.
Who will win the 2014 Battle of the Super Heroes? LEAVE US A COMMENT
About The Author