Hercules: The Legend Begins looks awful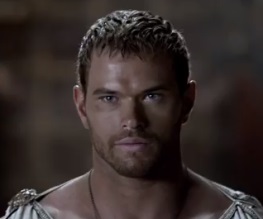 We don't really know much about Hercules: The Legend Begins – we're much more interested in Dwayne 'The Rock' Johnson's Hercules: The Thracian Wars, or Disney's Hercules, or literally any film that doesn't star Kellan Lutz – but we've now seen a trailer for it, and it looks diabolical.
Starring the cast-off former Cullen (who must have got a taste for this sort of rubbish when he was in Immortals), The Legend Begins appears to recast Hercules as a lovelorn prince who is exiled and forced to become a gladiator before embracing his divine parentage to batter people with a sort of wet towel made of lightning.
We don't even have anything else to say. Just watch the bloody thing:
Well. So. Yes. What did we do to deserve this?! Drawing equally from the aforementioned Immortals (which was awful), 300 (which has already got a sequel on the way, so this wasn't necessary) and Gladiator (we'll forgive Ridley anything, he just loves men in armour), Hercules: The Legend Begins looks as if it might actually be the worst classical epic film of all time. Which is going some when you remember Sinbad and the Minotaur. But the main offender is clearly Kellan Lutz, who has literally never made a good film ever – top of his CV are this dross, various Twilight films, the forthcoming Expendables 3 and Tarzan and, lest we forget, Arena. We'll be setting up a Justgiving later this week to raise funds for his trip to Dignitas.
Hercules: The Legend Begins is out next year. Seek shelter.
About The Author