Hilary Duff Dropped From Bonnie and Clyde Remake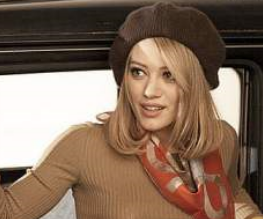 While many of us were looking forward to the most ill-advised and universally unpopular casting choice in the history of the world ever, alas the impending train-wreck is no more. Hilary Duff has been dropped from Tonya S. Holly's long awaited The Story of Bonnie and Clyde, a "re-imagining" of the 1967 classic starring Faye Dunaway and a vaguely homosexual Warren Beatty.
While the production company is citing Duff's recently announced pregnancy as the sole reason for her dismissal, we can't help but think that there is more to this story then meets the eye. The film, which has been in tentative pre-production since 2009, is suddenly unable to cater to Duff's gestation needs. While production has been idle for almost two years, Cypress Moon Productions is now emitting hysterical claims that "it is imperative that we stick to our current schedule". What schedule is this then, CM? The schedule that waits it out until Hilary Duff gets knocked up by some Canadian hockey player?
Moments later, Duff's co-star, the perhaps equally maligned choice of Gossip Girl's Kevin Zegers as Clyde Barrow has pulled out due to "scheduling conflicts". While the indie-credible Thora Birch is still set to play Blanche Barrow, Clyde's categorically annoying sister-in-law, it does appear as if the thinly-formed project is falling even further apart.
Perhaps Cypress Moon has finally taken Faye Dunaway's advice, as quoted to the Chicago Sun Times in 2009: "Couldn't they at least cast a real actress?"
About The Author