Hitchcock's Vertigo named as greatest film ever!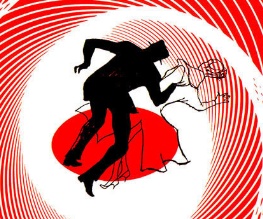 Haha! TAKE THAT CITIZEN KANE! You have officially been bitch-slapped off the top spot by Hitchcock. How does it feel to be languishing at number two? We bet it hurts. Although we cannot dispute that Orson Welles' Kane is one of the finest movies ever made, we always knew, deep down, that the number one spot had to go to the big Heezie.
Sight and Sound has once again rounded up the hordes (846 distributors, writers, critics and academics to be precise) and has compiled the top ten greatest films ever made. Guess what? The youngest film on the list is only forty four years young. Hitchcock is right back in there at the moment with the cultural Zeitgeist with Toby Jones and Sienna Miller set to play Hitch and Tippi Hedren in The Girl and Anthony Hopkins playing the director in Alfred Hitchcock and the Making of Psycho. Despite all of the weirdness surrounding Hitchcock's private life he was an undisputed genius, and his finest moment has to be the James Stewart/Kim Novak spooky love fest Vertigo.
The film is about Scotty (Stewart), a retired cop who suffers from vertigo after seeing a man fall to his death from a rooftop. One day he is called out of retirement by an old college friend who asks Scotty to follow his wife Madeline (Novak) as she has become strangely obsessed with a relation in her past and he fears that she might kill herself. Naturally Scotty becomes drawn to Madeline but soon tragedy strikes and things might not be all that they seem…
It is a fantastic film with an utterly amazing film score by Bernard Herrmann who worked on practically all of Hitchcock's films including North by Northwest and Psycho. It is full of drama, suspense and mystery and is well deserving of the number one spot. The rest of the films on the list however…well, have a look below and decide for yourself.
Sight and Sound top ten:
1. Vertigo (Hitchcock, 1958)
2. Citizen Kane (Welles, 1941)
3. Tokyo Story (Ozu, 1953)
4. La Regle du Jeu (Renoir, 1939)
5. Sunrise: a Song for Two Humans (Murnau, 1927)
6. 2001: A Space Odyssey (Kubrick, 1968)
7. The Searchers (Ford, 1956)
8. Man with a Movie Camera (Dziga Vertov, 1929)
9. The Passion of Joan of Arc (Dreyer, 1927)
10. 8½ (Fellini, 1963)
We don't know about you, but we would like to see a little bit more Jurassic Park on that list. Fellini can fuck right off. Still, Hitchcock reigns supreme and that makes us very happy BFF bunnies.
Think Vertigo deserves the top spot? You really, really should.
http://credit-n.ru/avtokredit.html http://credit-n.ru/blog-listing.html
About The Author