HIV drama manages to drag Jared Leto out of his hideyhole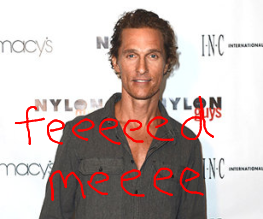 HIV-centric drama The Dallas Buyers Club, starring Matthew McConaughey, begins filming next week, and it appears that 30 Seconds to Mars front man Jared Leto is coming out of his acting hiatus to play "a flamboyant cross-dresser with HIV". Most famous for his role in Requiem For A Dream, Jared Leto had left cinema for a time to focus on his 'music' with his 'band'.
The Dallas Buyers Club follows the real-life story of Ron Woodroof, who was diagnosed with HIV and subsequently AIDs in the dark days of 1986. Informed that he only had months to live, he began smuggling illegal anti-HIV medicine into the US and distributed them amongst other struggling and ostracised sufferers of HIV.
With Matthew McConaughey losing all that Magic Mike weight to better represent the physical effects of HIV/AIDs, it looks like Jared Leto will have to pull out all the stops for his mincing transvestite. Jennifer Garner has also been slated for a role, although there is no mention how riddled with HIV her transvestite will be.
The Dallas Buyers Club sounds as happy as a film about living with HIV can be, but it certainly is shaping up to be a film to keep an eye on, whether HIV is a topic you are interested in or not.
What is your favourite film about HIV? Ours is Philadelphia… and no others actually come to mind.
About The Author