Hobbit films get names and release dates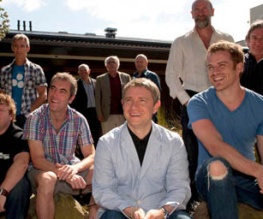 We don't want to sound incautiously enthusiastic, but it's starting to feel as if Peter Jackson's cursed Hobbit venture might actually make it onto the big screen. Warner Bros. and New Line have finally released the names of the two Hobbit films as well as their individual release dates, which return to the time-honoured tradition of releasing Middle-earth films in the run-up to Christmas.
The Hobbit: An Unexpected Journey will hit cinemas on December 14th 2012, whilst its sequel The Hobbit: There and Back Again is due to arrive on December 13th 2013. All the Lord of the Rings films had standardised releases throughout the Western world, so we're assuming these will do the same; we're also guessing one New York première and one Wellington, although last time round The Fellowship of the Ring debuted in London so anything's possible.
For the sort of numpty who disdains words in favour of shiny pictures, a cast photo of Martin Freeman (Bilbo Baggins) with his dwarven posse has also been released:
What was happening downstage right that was so bloody interesting? Eh, James Nesbitt? The smart money's on Ian McKellen getting his staff out.
How are you going to while away the eighteen and a half months until the first Hobbit film shuffles off to the Lonely Mountain? Let us know below!
About The Author