Holy Ghost People cult horror gets intriguing first trailer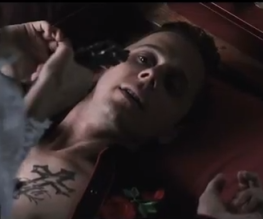 It may not sound all that appealing, but Mitchell Altieri's new horror-thriller Holy Ghost People has spawned its first trailer – and we're intrigued. Following on from recent successful cult dramas like The Master and Martha Marcy May Marlene, Holy Ghost People will take a substantially more chilling glimpse at the church cult 'phenomenon', cutting through a subject matter normally shrouded in ambiguity and revealing a sinister story about a snake-handling church deep in the woods. Think Red State meets Black Snake Moan.
Holy Ghost People will follow Emma Greenwell (True Blood, Shameless) hiring ex-Marine Brendan McCarthy (True Blood) to help her find her sister Liz (Buffy Charlet) who she believes has been kidnapped by said snake-handling church in the woods, headed by Brother Billy (Joe Egender) – whose performance already looks set to be a particular highlight.
Never heard of Mitchell Altieri? Don't beat yourself up about it, his previous films have been a hideous creation of fake blood and thin storylines, most notably The Hamiltons, which – God forbid – actually fathered a vampiric sequel, imaginatively named The Thompsons.
And yet here we are, rooting for Holy Ghost People, which actually looks like it could be on to something. The film is set to premier at South by Southwest in March – surely a good omen? And with The Last Exorcism Part II due for release this year, we're all aboard the cult train, begging Altieri to deliver us a killer lest we have to resort to sacrificially burning a lamb just to stop him making any more films.
So we're staying positive.
Should we trust the trailer? Will Holy Ghost People pull Altieri out of the gutter? Let us know what you think!
About The Author