Horrible Bosses 2 is apparently happening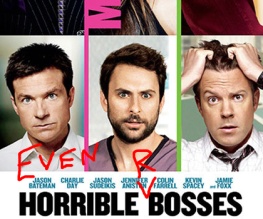 Can't we ever just have new films, Hollywood, or is the rule now that anything which takes more than a hundred million dollars simply MUST be remade until all the stars are dead (and then remade with Shia LaBeouf)? Apparently it is, since we've just heard that last year's ensemble comedy Horrible Bosses is to be given the sequel treatment courtesy of New Line.
Screenwriters John Francis Daley and Jonathan Goldstein are back on the job, with director Seth Gordon in early stage talks and stars Jason Bateman, Jason Sudeikis & Jason Charlie Day all expected to reprise their roles as downtrodden employees. That said, as of the closing minutes of Horrible Bosses the eponymous employers were either dead, in prison or up to their eyes in blackmail, so presumably the Two and a Bit Jasons will have to find new and equally frustrating workplaces in the sequel.
We don't especially care – Horrible Bosses was passable – but haven't we seen all this before? A little originality's all we're asking for, guys! Sigh.
Would you watch Horrible Bosses 2? You probably would, wouldn't you? Tell us why, then.
About The Author