Hunger Games smashes box office records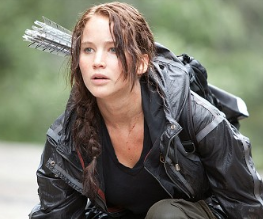 Bella who? In a victory for logic and reasoning everywhere, Lionsgate's The Hunger Games has done mind-bending brilliantly in its opening weekend, taking a terrifing $155 million worldwide. Not only does this mean that it's ALREADY the most profitable film in Liongate's history, but it also marks The Hunger Games as having most successful opening for a non-sequel film EVER (topping Tim Burton's Alice In Wonderland). AND it's done better than any of opening weekends for the Twilight films. EVEN THAT ONE WHERE R-PATZ BROKE THE BED WITH HIS SEX POWER. YES!
There's no denying that this film was a bit of a risk for Lionsgate; yes it was a successful book franchise, but considering the budget they pumped into it -around $80 million – it could have ended in tears very easily. But thanks to a brilliant marketing campaign, a dedicated fan-base and – let's not forget – a bloody good film, it looks like this tale of dystopian child-slaughter is going to surpass everyone's expectations. Yays?
It's also worth noting that although the books were marketed to teen girls, the audience is actually pretty mixed; 60% women to 40% men (a far healthier divide than the womb-heavy Twilight figures). Again, it goes to hammer home that this is not necessarily a film for a particular market. It's just a damn good night out. THANK GOODNESS FOR SENSIBLE NEWS! WE'VE BEEN SO STARVED!
Have you seen The Games yet? Planning on it? You should.
About The Author