Ian Somerhalder goes in search of The Anomaly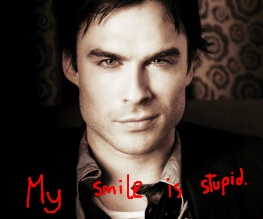 TV vampire Ian Somerhalder has set his improbably blue eyes on a new target – Noel Clarke's new thriller The Anomaly. Somerhalder, best known for his roles in The Vampire Diaries and Lost, has taken an unspecified role in the Kidulthood, Adulthood and definitely not Anuvahood star's latest directorial effort – an original story written by Simon Lewis which explores the mechanics of global terrorism via someone getting trapped in a van.
We're afraid that's pretty much all we know about the plot; A man is in a van against his will, sort of like a cross between Speed and Buried. A traumatised former soldier awakes in the back of a van, along with a kidnapped boy – we assume he didn't do the kidnapping, although who knows? The "twist", according to Deadline, is that "he only has nine minutes and 37 seconds of consciousness to figure out what happened, why it's happening to him, and how he can get out of it". Either this is the most expensively-produced short of all time, or Simon (who used to write Lonely Planet guides) needs to crack on with writing some more scenes…
Directed by and starring Clarke, who's returning to the little foldy chair after a few years concentrating on his acting (most recently in Star Trek Into Darkness), the film will also star Somerhalder and Luke Hemsworth, best known for his role in Marvel's Thor… hang on, his name's Chris. Let's try that again. Hemsworth, who shot to global prominence in The Hunger Gam– wait, that doesn't sound right either. Hang on, we're going to Google this.
Okay, back to the story – it turns out that Luke Hemsworth, the older brother of Chris and Liam, is an Australian TV actor who's done absolutely nothing memorable ever, unless you count Neighbours which nobody does. Maybe he's playing the van. Noel, Ian and Luke will be joined onscreen by the omnitalented Brian Cox and the memorably busty Alexis Knapp (the comedy slag from Pitch Perfect), although it's anyone's guess what they'll be up to.
The Anomaly is filming in London RIGHT NOW, although it only started last week so it probably won't be out this year. More on this story, including who's actually playing the lead chap (our money's on Somerhalder, Noel doesn't put himself front and centre any more) as we get it!
Do you know who Luke Hemsworth is? Help us.
About The Author