Idris Elba talks playing Mandela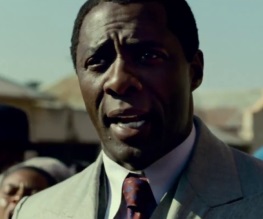 As you no doubt know, former President of South Africa and global human rights hero Nelson Mandela died yesterday aged 95. We don't really feel that Best For Film can bring anything new to the table in terms of writing an obituary – it's not like he was a film star anyway, this really isn't our area – so we're going down a slightly different route.
Mandela has been portrayed onscreen by a number of hugely talented actors, notably Sir Sidney Poitier and Morgan Freeman. The latest actor to step into his shoes is Idris Elba, whose new film Mandela: Long Walk to Freedom premièred last night in London – news of Mandela's death broke during the event.
Our pals at FILMCLUB UK recently caught up with Elba in his home borough of Hackney, where – as part of the utterly brilliant National Youth Film Festival – he talked to local young people about the experience of playing perhaps the most iconic figure of our times (in a performance endorsed by Mandela himself). We think 'black actor talking to a room of kids of all races about how perseverance is the cardinal virtue' is a pretty appropriate tribute, actually. Have a watch, and then have a think.
RIP Nelson Rolihlahla Mandela
1918-2013
About The Author