Immortals trailers-a-go-go!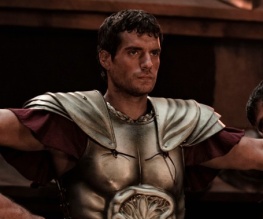 We're now three trailers in to the publicity blitz for Tarsem Singh's upcoming 300-alike sword and sandal epic Immortals, and we STILL haven't seen shit going down in true Classical ass-kicking style. Woe. Still, the latest trailer relies slightly less on mad momentary shots of gleaming armour/abs and throws us a bit of a plot bone. Hurrah!
Take a look (we've bunged in the first two trailers too, just to properly overstimulate you:
In conclusion: lots more CGI long shots, Mickey Rourke being a gruff badman, billowing cloaks, Freida Pinto being a waste of bloody space as usual, various gods, men and monsters (spot the Minotaur!) kicking off and HENRY CAVILL FLYING WITH A RED BLOODY CAPE. Can't blame him for trying to have some fun before becoming the world's most tedious superhero…
Thoughts? Wet pants? Tell us all below!
About The Author