In which we get to say PARTYSAURUS REX again!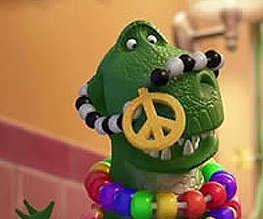 We don't think we will EVER get tired of news about the new Toy Story short Partysaurus Rex. It is the gift that just keeps on giving, first with the glorious title, then with images and now we have been given a sneak peak video to see it all in animated glory. Ok so it only clocks in at just over thirty seconds, but if they can get this much fun into such a short space of time just think how good the full film will be!
The short will be shown just before the Finding Nemo re-release in cinemas later this year and tells the story of Rex (Shawn) trying to make new friends and reinvent himself now that he and the others live with Toy Story 3's Bonnie. Once Bonnie's bathwater has been drained away however, it seems that the plastic toy's fun is all be over! Unless someone with diddy dino arms can do something about it? Let's get this party started, you funky reptilian! (Dinosaurs are reptiles right?) Whatever, drop the beat, dinosaur!
It looks like the makers have had a great time coming up with some new characters for us. The ones which stand out in particular are the whale with the tap in its mouth and the disco duck. Bathtime has never seemed so much fun! With music created specially for the short by electronica artist BT this looks set to be a really fantastic little film.
Keep an eye out for Finding Nemo in cinemas to get in to the coolest pool party of the year!
http://credit-n.ru/offers-zaim/creditter-srochnye-zaymi-online.html http://credit-n.ru/business-kredit.html
About The Author