Inbetweeners Movie claims highest ever UK comedy opening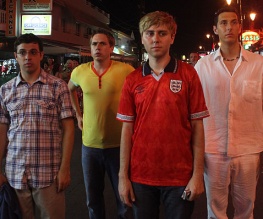 The Inbetweeners Movie, the generally underwhelming spin-off from E4's cult comedy, has recorded the highest ever opening for a UK-produced comedy. Or has it?
The film took an impressive £13.2m in the five days between Sunday and its opening last Wednesday, smashing the previous record (held by Bridget Jones: The Edge of Reason, which took £10.4m). However, it's worth remembering that The Edge of Reason had a rather more conventional Friday opening slot, giving it just three days to amass its opening haul.
So, just so we're aware, this news is utter bollocks. Bridget Jones: The Edge of Reason averaged a take of £3.47m per day on its opening WEEKEND, whereas The Inbetweeners Movie managed a comparatively tame £2.64m per day during its five-day opening orgy, which included an ORANGE BLOODY WEDNESDAY. I know this, because I went to see Cowboys & Aliens on Wednesday and the entire cinema was alive with idiots who somehow thought that this would be the spinoff film to break the totally immutable mould (which is in the shape of a turd, obviously). In short, they cheated. We're not impressed.
Mark Darcy wouldn't put up with this shit. Will you? Comment and rant and stuff!
About The Author