Iron Man 3 Sneak Preview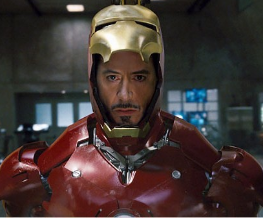 At seventeen seconds long, it's a tease briefer than the most straight-edged of Robert Downey Jr.'s put-downs. But it's enough to confirm that yes, Iron Man 3 does exist, and yes, no more sharing the limelight with the likes of Hawkeye and Black Widow. Hopefully.
Disney have revealed a lengthy plot teaser as well, promising a dark addition to one of the funnier sub-franchises of Marvel's ever-expanding universe: "With his back against the wall, Stark is left to survive by his own devices, relying on his ingenuity and instincts to protect those closest to him. As he fights his way back, Stark discovers the answer to the question that has secretly haunted him: does the man make the suit or does the suit make the man?"
While such troubling questions rage around our hopes and fears concerning Stark Industries and the man at the center of it all, more basic queries are answered by the teaser and accompanying plot blurb. This time round, Stark will face off against Ben Kingsley as villain called The Mandarin. Having not done battle with a definite article before, such weightiness of title can only mean a step up from dispatching Mickey Rourke and Jeff Bridges' cantankerous old geezers of Iron Men past. He will also do the thing where he hovers at at an impossible height before shooting head-first into a gaggle of enemies below. Whew.
The official trailer debuts on October 23rd.
About The Author