Iron Man 3's billionth TV spot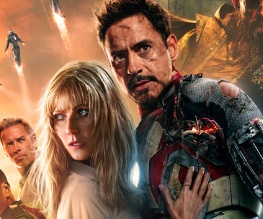 Called "Is that normal?" (which sounds like a line from Embarrassing Bodies), the brief clip shows Rebecca Hall's character addressing Tony Stark and Pepper in Stark's home. After they reply in their characteristically, neurotic couple-y manner, a series of shots ramp up the action ahead of the its release. It's brief but delivers just enough to tickle our fancy. Watch it below.
Unlike previous promotional bits and pieces, this film highlights the lighter side of the Iron Man film franchise that we've come to know and love. It's a good reminder that ultimately, this is a superhero film starring quip-master Robert Downey Jr – he can do tough, but he'll be bringing the funny as well. Downey is playing the goateed billionaire genius for the fifth time, and he is joined by Gwyneth Paltrow, Guy Pearce, Don Cheadle and Ben Kingsley as the Mandarin.
What do you make of the thirteenth – THIRTEENTH! – TV ad for Iron Man 3?
About The Author