J. D. Salinger documentary goes to Harvey Weinstein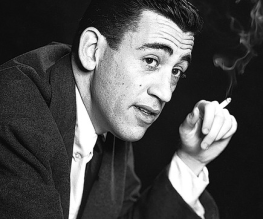 Not in like, an awards-giving kind of way, but the upcoming J. D. Salinger documentary has been acquired by The Weinstein Company, who now have the theatrical rights to distribute the film world-wide in a seven figure deal (around the $2 mill mark).
The news comes as only the day after this year's Oscars Salinger's documentary was played for the first time in front of Harvey Weinstein, David Glasser and "the acquisition team" – whoever those elusive members may be. Grace of Monaco with Nicole Kidman, and Mandela: Long Walk to Freedom with Idris Elba, are among the other films acquired over the Oscar season. Naturally, all 3 films are being pushed for release date in time for next year's Oscars. Biopic galore.
Harvey Weinstein's recent producing jobs have been on Oscar winning films Django Unchained and Silver Linings Playbook. While we have nothing against either of these films, or Weinstein's disgustingly successful filmography as producer, it's all just a little tedious churning out film after film ribboned, wrapped and perfumed for Oscar season. There's MORE TO LIFE you know, Harv.
Deadline reported that the entire deal over the J. D. Salinger documentary was one of the richest deals ever for a feature documentary. So, literally, no pressure guys. But apparently we're in for a treat, with the documentary about the famous Catcher in the Rye author boasting a selection of previously unseen photos and footage, his love affairs, interrogations by Nazis and much much more – including a glimpse into Salinger's "secret literary fault", where 45 years of unpublished writing sits unread. It all sounds so naughty and wondrously self-indulging. We can't wait.
Do you think Harvey Weinstein's J. D. Salinger's documentary will be a success? Let us know!
About The Author