Jack Sparrow comes to London in search of Stranger Tides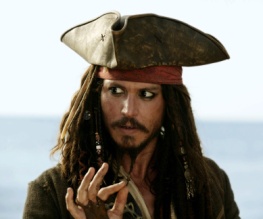 Captain Jack Sparrow and his crew have descended upon London to make Pirates of the Caribbean: On Stranger Tides, which is currently filming in Greenwich after rather more glamorous stints in LA, Hawaii and Puerto Rico. The down-to-earth location is reportedly part of a cost-cutting drive by Disney, which is demanding a huge profit from the fourth instalment of the popular franchise after 2007's Pirates… At World's End met with lacklustre reviews and lower-than-usual takings.
Johnny Depp and Geoffrey Rush have both returned to the project (with a salary of £33 million for this film, who can blame Depp?), but previous co-stars Orlando Bloom and Keira Knightley have both elected to leave the series for good. Never fear, though – in their place will be Ian McShane and Penelope Cruz as the infamous pirate Blackbeard and his inevitably hot-blooded daughter.
Here at Best For Film Towers we're not sure quite what to expect, but our esteemed editor Tash has already been making her enthusiasm known with this home-made costume…
Y'arrrgh!
About The Author