Jack The Giant Slayer gets new trailer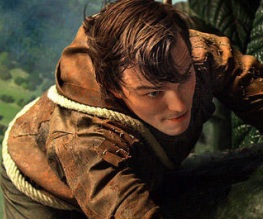 Jack the Giant Slayer –né Killer– has popped up with a shiny new trailer almost a year after we were expecting a summer 2012 release. Taking its cue from the classic tale, an ancient war between humans and giants is reignited when Nicholas Hoult opens the gate between their two separate realms. Probably by taking some 'magic' beans or something, right? Remember, he was in that TV show with all the drugs and sexy kids? Never mind.
We'll admit, the CGI looks a little ropey in places. A hefty dose looks to have been donated to the construction of Ewan McGregor's facial expressions. That said, there's a healthy humour that keeps things bouncing along, a welcome tone given much fantasy's propensity to over-egg the mythos and disregard the chuckles. Plus, Stanley Tucci's conniving Lord Roderick looks like a promising thread of the story. And with Bryan Singer pulling the strings, it should be at least decent.
It's unfortunate that Jack the Giant Slayer will see its release during the midst of Peter Jackson's three-year Middle Earth revival, though whether its rescheduling is an intentional grab at The Hobbit's guaranteed popularity is moot. We'll have to wait until March to see if Jack the Giant Slayer can stand on its own two feet, but we hope it's more than a grasp at the return of grass, horses and magic as cinema's latest zeitgeist. Again. Damn you, Peter Jackson.
About The Author