James Brown's got a brand new biopic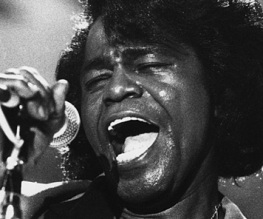 Brian Grazer, Oscar-winning producer of A Beautiful Mind, 8 Mile, American Gangster, Apollo 13 et al, has secured the rights for a movie about the turbulent life and times of funk founding father James Brown. More than this, none other than Sir Mick Jagger is to co-produce on the project which had its beginnings in the early nineties, when Spike Lee was set to direct.
Since Brown's death in 2006, various legal wranglings over his estate have prevented any movement on the film project. James Brown's will awarded his fortune to to a charity education fund for underprivileged children in Georgia and South Carolina. His children and fourth wife challenged this and in 2009 the South Carolina Attorney General ruled that the legacy should be divided between the parties, and now all subsequent petty lawsuits have been resolved. Since then, Tate Taylor (of The Help) has been attached to direct, instead of Lee.
It seems we are approaching a golden time of music-legend biopics, with other projects in various stages of development on Kurt Cobain and Jimi Hendrix also in the works. James Brown's colourful life and career certainly has cinematic potential: expect a highlight to be his two-state car-chase and arrest in 1988, followed by his now viral appearance on local TV news, stimulated. Grazer promises a comprehensive view, pledging to capture the "great high points and some of the really palpable low points of his life." The first draft of the script apparently had thirty performance pieces.
Do you reckon you're going to Get Up Offa That Thing when James Brown's life hits our screens? Or have you Got the Feelin it'll be Super Bad? Try Me. LET US KNOW
About The Author