James Marsden to be Ron Burgundy's rival in Anchorman 2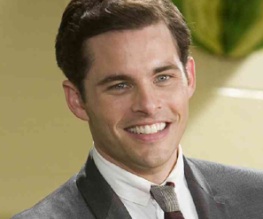 Great Odin's Raven! Big, big news! X-Men star James Marsden is to star alongside Will Ferrell as Ron Burgundy's rival news anchor in this year's Anchorman: The Legend Continues. Fresh from exercising his comedy chops as Liz Lemon's love interest Criss Chros on 30 Rock, the addition of the 40-year old (can you believe it?) to the cast will be a welcome one for fans of Marsden's fresh faced all-American looks and comic zing.
The boy has been on quite good form recently, and it's difficult to believe he's been around so long. He first came to the attention of audiences for his role as Cyclops on the original X-Men film back in 2000. Marsden then maintained his profile with a season on Ally McBeal before X2 and X-Men: The Last Stand came along and then scored box-office hits with The Notebook, Superman Returns, Hairspray, and Enchanted. This year will also see him star as JFK in Lee Daniels' The Butler. Quite a range on our boy, eh?
Speculation about Anchorman 2 is rife. But fear not, we'll filter through all the rubbish for you and bring you the news pristine and shiny as always. We can look forward to its release in the UK on 20th December.
Is James Marsden a classy enough rival for five-time Emmy-award winning anchor Ron Burgundy? LET US KNOW
About The Author