Jamie Dornan takes over as Christian Grey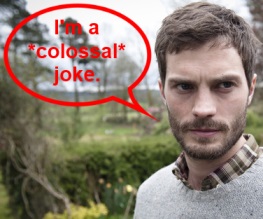 An actor we've never heard of has become the latest idiot to sacrifice his credibility at the altar of EL James and her nasty, sordid, sticky-fingered Twilight rip off. Ever feel like this isn't the sort of journalism John Walter was thinking of when he founded The Times?
Jamie Dornan, a Northern Irish model and occasional thespian powerhouse, is apparently best known for appearing in nine episodes of a US TV series, knocking off Keira Knightley and playing a bloody Swede in Marie Antoinette. We're also willing to bet that he has at least one of the following things: an incredibly unscrupulous agent, no interest in ever getting any serious work again, or a profound inability to understand the consequences of his actions. Isn't there a word for that, handy psychology dictionary?
Yeah, that'll do. Whichever one it is, Dornan's somehow ended up inheriting the role of perverted rapist moneybags Christian Grey from Charlie Hunnam, who was attached to the production for just long enough to permanently associate his name with the cloudy, grease-clogged outpourings of EL James' mind before he ran for the hills. Silly Charlie. Still, at least he's got Crimson Peak to look forward to – we wouldn't be at all surprised if this marks the final entry on Dornan's IMDb, bar a few appearances in character at Ann Summers parties.
Fortunately for him, Dornan doesn't have much time to repent at leisure – Fifty Shades of Menopause is due in cinemas next summer, so he'll presumably be dangling his balls in Dakota Johnson's lovely undeserving face before you can say 'somebody should ask EL James about her childhood'. Ugh.
EDIT: it turns out somebody has heard of Jamie Dornan:

Our bad.
How do you feel about this? Have you heard of Jamie Dornan? ARE you Jamie Dornan? We hope they pay you enough for an air fare to Switzerland and a big mug of cyanide, Jamie.
About The Author