Jason Segel may return for Muppet Cameo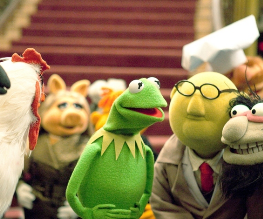 Although we heard a while back that Jason Segel won't be on writing or starring duties when it comes to the Muppet sequel, word is that he might pop back for a cheeky cameo. Who can blame him eh? Collider recently sat down for an interview with Muppet writer Nicholas Stoller, and as well as locking down an ideal release date (summer 2013), Stoller admitted that they'd started work on the writing of the sequel itself. With our pal Jason in mind for a swift one. HUZZAH!
According to Stoller (full interview here), the writing process has begun, and as of today he's 13 pages into a Muppet sequel. Although he remained pretty tight-lipped about the content, he described the new film as a "comedy caper" – perhaps taking more inspiration from earlier Muppet flicks such as The Great Muppet Caper and The Muppets Take Manhattan – and though Jason won't feature heavily, Stoller is keen to get him back for a brief encounter or two. One thing is for certain though, Disney are desperate to get this done as quickly as possible. With a preliminary release date of Summer '13, are the team at all worried about rushing out a sub-standard sequel? Stoller doesn't seem particularly optimistic about the suggested release date, stating:
"I don't think that that's realistic in terms of getting it all together in time. But to want to do it so quickly is great. It certainly makes us want to write it quickly."
Yeah. Things written really quickly are always the best. ANYWAY, the point is, those puppety gears are turning and we're psyched. LET'S PLAY THE MUSIC AGAIN! LET'S DO MORE THINGS WITH THE LIGHTS!
About The Author