Jennifer Connelly could play Mrs Noah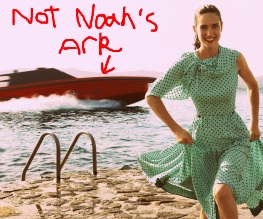 Reports are surfacing that Jennifer Connelly is finally coming aboard to play Naamah, the wife of Noah, in Darren Aronofsky's adaptation of the biblical epic. And about time too- the Labyrinth star's name has been being thrown around in conjunction with this project since April, and according to /Film she has been involved in read-throughs from the very start. She may even have been involved before Russell Crowe was cast as Noah – meaning that the rumours of Julianne Moore taking the role were unfounded.
Connelly has previous with both her new director and her nautical leading man – her breakthrough performance as a fully-fledged adult actress was in Aronofsky's seminal Requiem for a Dream, and she won her Oscar (Best Supporting Actress) for playing the wife of Crowe's character John Nash in A Beautiful Mind. Still, "my husband is a schizophrenic mathematician who thinks he's working for the Pentagon" doesn't really touch "my husband is a nine-hundred-year-old boatbuilder who thinks God is trying to drown everyone on earth except him" on the oh-fuck-Russell's-snapped scale…
Filming is to begin next month in preparation for a March 2014 release, with Ray Winstone playing an Unspecified Villain and Logan Lerman, Douglas Booth and Emma Watson playing Noah's sons and daughter-in-law respectively.
Mrs. Noah isn't a big character in the original – she isn't even named in the Bible, because God's a massive sexist – but we'd like to think, despite Aronofsky promising a "close adaption", that he and his co-screenwriters have something vaguely feminist up their collective sleeve. Can you say 'Captain Naamah'?
About The Author