Jennifer Ehle signs on for Fifty Shades of Grey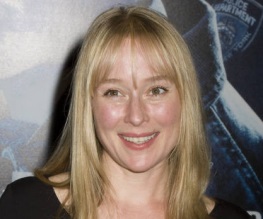 We're still scratching our heads at this one. Despite all our misgivings it looks like this fanfiction-story-turned-novel by E.L. James is well and truly in the works. The Sam Taylor-Johnson adaptation has already announced Dakota Johnson in the role of the sweet and fragile Anastasia Steele, with Charlie Hunnam taking on the part of the rich and successful Christian Grey who introduces her to the wild world of bondage. And it looks like neither Focus Features nor Universal pictures are quite done when it comes to filling out the cast.
Rumours are coming in left, right and centre, that they are currently in negotiations with Zero Dark Thirty's Jennifer Ehle to play the role of Carla May Wilks, the four-time divorced, kind of flighty, slightly irresponsible mother of the female lead. Kelly Marcel's script must be conveying some sort of emotional depth if the BAFTA-nominated Ehle is willing to fill in such a small side role. First coming to prominence in the legendary 1995 adaptation of Pride and Prejudice, Ehle has more recently held her own against Colin Firth in The King's Speech, Ryan Gosling in The Ides of March and Matt Damon in Contagion, before landing the lead role in CBS's short-lived drama A Gifted Man. Ehle is currently working on Jennifer Phang's sci-fi drama Advantageous as well as Alan Rickman's historical drama A Little Chaos, Mike Binder's familial drama Black and White and José Padilha's upcoming Robocop remake (characters that may to prove to be a tad bit more deserving of her obvious skills).
August 1, 2014 has been marked out for the Fifty Shades of Grey release. So still time yet for a whole host of things to go wrong (fingers crossed!).
About The Author