Jennifer Lawrence to remake East of Eden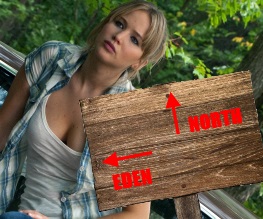 When the going gets good, the best keep going. Or something like that. All we know for sure is that Oscar winner Jennifer Lawrence is shaping up to be quite the unstoppable force in Hollywood at the moment. Not only does she have the next three instalments of the Hunger Games franchise to get through but she'll also be gracing our screens with Christian Bale in American Hustle and taking us back to the Depression in Serena, before reprising the role of shape-shifter Mystique in X-Men: Days of Future Past.
But apparently that's still not busy enough. Deadline reports that Lawrence will join her former Hunger Games director Gary Ross to bring an updated adaptation of John Steinbeck's East of Eden to the screen. The novel first saw celluloid in 1955 with Elia Kazan directing and James Dean and Jo Van Fleet starring (all three were nominated for the relevant Oscars, with Van Fleet winning Best Supporting Actress), so content-wise the team is treading on some pretty safe ground. Lawrence is meant to take on the role of Cathy, the mother to twin sons Caleb and Aron Trask, who abandons them shortly after birth only to return later when it seems to matter most.
The tale of two generations has been called a metaphor for the story of Cain and Abel, which should give writer Paul Attansio a run for his money when penning the script. Being in its infant stage the project has no set date for production or release as yet but keep your ear to the ground (or us) for any and all updates.
What next for Jennifer Lawrence? Rebel Without a Cause? Citizen Kane? We can't wait to find out.
About The Author