Jessica Chastain IS The Zookeeper's Wife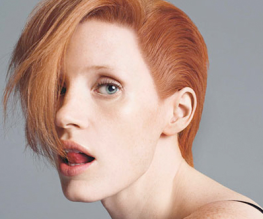 Jessica Chastain has had a busy couple of years, hasn't she? Although she peaked in the monumental Zero Dark Thirty, she has appeared in 9 other films in the last 2 years. After her success in the last award season, Jessica Chastain looks to be baiting the Academy once again with The Zookeeper's Wife. It has Nazis in it, and not the fun Raiders of the Lost Ark kind of Nazis. And the award for Best Leading Actress in a Motion Picture goes to…
Based on a true story, Jessica Chastain grabs the titular role of Antonina Zabinski who, along with her husband Jan, owned a zoo in Poland upon the outbreak of World War II. With Nazis goose-stepping through the streets of Warsaw and the reptile house, the couple decide to shelter persecuted Jews within their zoo. We're presuming that they slapped some face paint on and hid in the tiger cage, clearly the safest place in Warsaw, since it's a truth universally acknowledged that the Nazis' one weakness is tigers.
The Zookeeper's Wife doesn't sound as if it's going to be the sort of film we're overly excited about, but Jessica Chastain's remarkable acting prowess should make this a performance masterpiece. Considering one of Jessica Chastain's previous roles was as a Mossad agent hunting Nazis in The Debt, this should be comfortable territory for her.
Other projects on the go for Jessica Chastain are Crimson Peak (Guillermo del Toro's haunted fun-ride), Miss Julie (in which Colin Farrell will be sexing up poor Jessica) and both versions of the freaky double-bill The Disappearance of Elanor Rigby: His and The Disappearance of Elanor Rigby: Hers. We're going to have more Jessica Chastain than we can handle soon enough!
Is Jessica Chastain enough to get you to go see an unashamed tear-jerker? Let us know in the comments below!
About The Author