Jessica Chastain might join Hathaway in Interstellar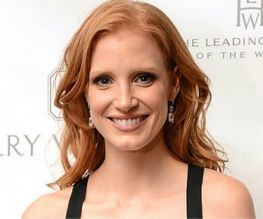 We wouldn't go as far as to say Jessica Chastain is one of the best actresses of our generation, but she is the world's sexiest vegetarian – and you can't argue with that (otherwise, you can take it up with Al Pacino). Discussions are currently in motion which might see Jessica Chastain starring alongside meat-eaters Matthew McConaughey and Anne Hathaway in Christopher Nolan's new sci-fi Interstellar as a lead character. Will it happen? Won't it? We're clueless. No-one really knows the gwanings on board the Interstellar train, apart from a few recent casting decisions and, oh, Christopher Nolan will be re-writing the script (originally written by his brother).
Steven Spielberg originally had Jonathan Nolan write a script based on physicist Kip S. Thorne's theory that wormholes exist and can be used for time-travel. This essentially forms the story for Interstellar, but Christopher Nolan recently kicked his brother in the backside by rewriting the script and planting in his own 'original idea'. Yiesh – move over Gallaghers.
Jessica Chastain has recently clamoured on top of The Zookeeper's Wife (you're thinking it) possibly in a bid to lure in the Academy recognition once again, after the controversial and overly-talked-about Zero Dark Thirty split Academy opinion. Interstellar will be a break away from Nazis, wars and terrifying ghosts for Chastain, and will focus instead on a "heroic interstellar voyage to the farthest borders of our scientific understanding". No doubt, Jessica Chastain would nail it, if talks turn into contracts.
Interstellar will be worming its way onto screen on November 7, 2014.
Jessica Chastain may be the sexiest vegetarian, but who's the sexiest meat-eater? Have a think about this one. Votes at the bottom, please.
About The Author