Jim Carrey in first new image from Kick-Ass 2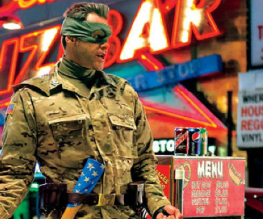 It's been 3 years since Kick-Ass hit our screens (THREE!) and the day has finally arrived for the first still image from the much-anticipated Kick-Ass 2. The new still image sees Kick-Ass newcomer Jim Carrey as Colonel Stars and Stripes (known simply as Colonel Stars in the comics) with a fellow side-kick German Shepherd, talking to (shouting at? yawning at?) Aaron Taylor-Johnson, who returns as our beloved Kick-Ass.
Click the image to see it FULL SIZE!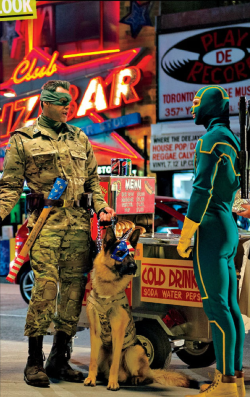 How CUTE is the dog's little face mask? Sure to be setting a new trend for pooches everywhere. Jim Carrey's new character is a mobster-turned-superhero and head of Justice Forever, a crime-fighting syndicate roused by the events from Kick-Ass. We think the dog tags along behind him. Thankfully, it looks like Kick-Ass 2 has still kept its colourful craziness and hopefully with the added Marmite-human that is Mr Jim Carrey, it'll once again win the hearts of its cape-donning fans.
Red Mist (Christopher Mintz-Plasse) will be chasing the crime-fighters across the city, once again assembling his clan of evil doers and re-branding himself as The Motherfucker. Moving away from McLovin, Kick-Ass 2 is set to show us the 'serious' side to Mintz-Plasse's acting capabilities. What is it with this guy getting the best character names in showbiz?
Cry Wolf director Jeff Wadlow is taking over from Kick-Ass helmer Matthew Vaughn, but we're hoping this won't cause too much damage to the new franchise. He won't be the only newbie working on the film either; Scrubs star Donald Faison, Ultimate Fighting champion Chuck Liddell and John Leguizamo join the cast. Olga Kurkilina also stars as Mother Russia. You'll have to wait until July 19 to judge all these newbies, unfortunately. Until then, we await the next images!
On a scale of 1 to OMGOMGOMG, how excited are you for Kick-Ass 2? Does this new image do it for you? Do you reckon Jim Carrey is a good choice for the sequel? Tell us your thoughts below!
About The Author