Jim Carrey in talks for Kick Ass 2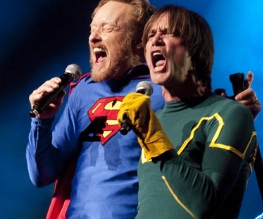 Jim Carrey was a massive fan of the original Kick Ass movie. Fact. We know this because he donned the costume for a musical duet with a bearded Conan O'Brien – but does that mean he'll agree to star in the upcoming sequel, imaginatively titled Kick Ass 2?
Writer and director Jeff Wadlow certainly hopes so! Apparently the producers have clubbed together to offer Jim Carrey, famed for his appearances in The Mask, The Truman Show and Liar Liar, his very own role in the sequel.
It's very early days yet (read: VERY unconfirmed), but Jim has been offered the role of Colonel Stars, a character described as a "showy supporting role" who "helps galvanize the team of misfit super heroes". So, basically, he's a bit like Samuel L Jackson's character in Avengers Assemble. But with more jokes. And less screen time.
It's a pretty juicy offer, as the film is set to bring back the highly-acclaimed cast of Chloe Moretz, Aaron Johnson and Yancy Butler, as well as newbies John Leguizamo, Donald Faison, Morris Chestnut and Robert Emms. And we're sure they'll throw in a pretty awesome costume for Carrey too, if he agrees.
We're actually pretty stoked about this casting possibility. And, being as Jim Carrey would only have to offer up a few of his human days for the part, we reckon he might be swayed to jump aboard the good ship Kick Ass 2.
After all Jim, anything's got to be better than Dumb And Dumber And Dumberer. Or whatever you call that dead horse you're flogging…
About The Author