Joaquin Phoenix in talks for new Paul Thomas Anderson film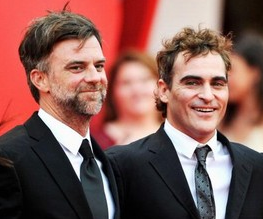 It looks like The Master director Paul Thomas Anderson and star Joaquin Phoenix will be teaming up again – this time for an adaptation of 2009 Thomas Pynchon novel, Inherent Vice. The film (of the same title) will be set in Los Angeles in 1969-70 and follows a weed-obsessed policeman investigating a kidnap. There may be some gangsters lurking around somewhere too. We see the part fitting Joaquin Phoenix like a glove.
Although it's not confirmed yet what part Joaquin will be playing, you can bet (because it's Best Actor Oscar nominated Joaquin Goddamn Phoenix) that he'll probably be the pot-smoking detective, if not some other awesome sounding main part. There are already an interesting slur of character names in the story, including Riggs Warbling, Adrian Prussia and Japonica Fenway. Basically Joaquin should play all of these parts.
Paul Thomas Anderson has already been working on Inherent Vice for a few years. At one point, Iron Man's Robert Downey Jr was attached to the project, but he lost interest when he realised it wasn't actually about Sherlock Holmes. Anderson is currently set to produce Inherent Vice and has already written the screenplay. We'll keep you updated with news on the project, and Joaquin Phoenix in general. Because we love him.
No doubt another stylish Paul Thomas Anderson film will be great, right? Are you getting good vibes or bad vibes, or no vibes at all? Vibe it all out below!
About The Author