Joaquin Phoenix really is Still Here!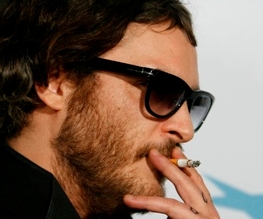 Shifty and uncomfortable, his eyes obscured by sunglasses and his gum chewing jaw covered in a thick beard – Joaquin Phoenix's appearance on the Late Show with David Letterman is not something easily forgotten. The sight of the once articulate actor, the man who chilled in Gladiator and wowed in Walk The Line, looking so thoroughly broken was amusing and horrifying in equal measure – though we never quite knew which response was right.
Now, on the eve of the UK release of I'm Still Here, we might finally have an answer. And Thank God! Despite the fact that just ten days ago director (and brother-in-law) Casey Affleck stated that he didn't "want to influence people's interpretation" of his film – one that charts Phoenix's retirement from acting and subsquent ill-fated attempt to start a rap career – he has yesterday gone on record as saying that Joaquin was indeed putting on an act. "It's a terrific performance," Affleck said, speaking to the New York Times, "it's the performance of his career." All together now: 1, 2, 3, Phew! …But hang on. Is it too early to breathe that unified sigh of relief? We still don't know what our response to Phoenix and Affleck's film should be. Argh! Will the mystery never end?!
What do you make of I'm Still Here? Awkward in-character romp in the vein of Sacha Baron Cohen? Or biting commentary on the fickle nature of celebrity? Let us know below!
About The Author