Johansson, Witherspoon, Chastain, Seyfried front-runners for Hillary Clinton biopic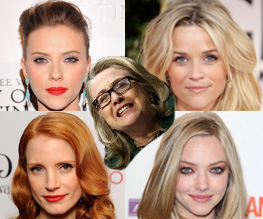 Word on the street is, James Ponsoldt's upcoming biopic of Hillary Clinton – entitled Rodham – is close to securing a lead actress. Apparently, the four front-runners are now Scarlett Johansson, Reese Witherspoon, Jessica Chastain and Amanda Seyfried. WHAT A SURPRISE. THEY'RE ALL VERY VERY ATTRACTIVE. Obviously, looks-wise, none of these ladies particularly resemble Hillary. Seyfried has a round face and sort of the right hair so for that reason OUR MONEY'S ON HER!
The film will focus on Clinton's early years, when she was working as a lawyer in Washington at the height of the Watergate scandal. It will also, presumably, cover her relationship with hubby Bill, whom she met and began dating in 1971.
Ponsoldt – who has so far made a name for himself directing indie comedies Smashed and The Spectacular Now – is reportedly delighted with the bevy of lovely ladies vying for the role. Strangely enough, despite his indie roots, he doesn't seem too bothered about casting a classically beautiful starlet in the role of Clinton. We wonder if, left to his own devices, he might have gone with someone a little more convincing. Alison Pill anyone? You know that would work.
Perhaps what we're most concerned/excited about is the inevitable porn parody which will come off the back of this (NO PUN INTENDED). You simply can't call a film Rodham and not expect the porn world to respond. They have a social responsibility to respond, James Ponsoldt. ROD. HAM.
Rodham is set for release in 2016, in time for the next presidential election. Who would you like to see in the starring role?
About The Author