John Williams to return for Star Wars: Episode VII?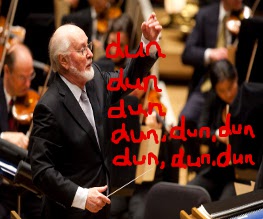 Star Wars has changed a lot over the last six (destined to become seven) instalments, but there are nevertheless a number of elements that have remained constant: R2D2 and C3PO will always quarrel, at least one character will always express reservations about a situation, and John Williams will always provide the score.
Whereas many believed creator George Lucas to have lost his touch with the much-maligned Star Wars prequels, you would be hard-pressed to find anyone who felt the same way about composer Williams. In fact, his work on The Phantom Menace's 'Duel Of The Fates' and Revenge Of The Sith is at least as good as – perhaps even superior – to any theme heard in the original trilogy.
While it was initially uncertain whether Abrams – who was announced as director of Episode VII earlier this year – would collaborate once more with Michael Giacchino (Alias, Star Trek) or seek Williams' experienced counsel, recent comments made during a press conference for Star Trek Into Darkness have gone some way to clearing things up:
"[Michael Giacchino] is truly one of the most influential members of our crew, and I think this score [for Star Trek Into Darkness], he really outdid himself. Again, for Star Wars, it's very early days, but I believe that, going forward, John Williams will be doing that film, because he was there long before I was."
Star Wars: Episode VII is scheduled for release in 2015. The hyperdrive on the Millennium Falcon permitting.
About The Author