Jolie rejects the draft of Salt sequel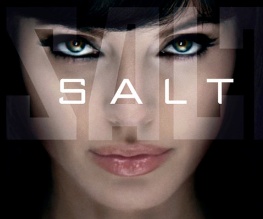 All those desperate to see Angelina Jolie reprise her role as Tom Cruise in Salt 2 – you may be waiting a little longer. Though Ange is still dedicated to the action-heavy franchise, word has gotten out that she's rejected an initial Kurt Wimmer draft, meaning it's back to the drawing board for the team.
We already know that director Philip Noyce won't be returning to direct the sequel, making it all the more important that the script hits the right notes. But seriously though, considering the first script consisted of RUSSIANS RUSSIANS BLOODY WELL RUSSIANS, how difficult can it really be to pull together a second Soviet escapade? Come on, a bit of cross-dressing here, a mysterious pointy-faced man there, a bit in the snow and a massive, tragic explosion to send us all home in style – Ange, we've totes got this sorted for you.
To be fair, we quite enjoyed Salt when it came out back in 2010, and it's good to know that Jolie isn't willing to sign on for any old madness. You take your sweet time, Ange. You want your millions of kids to be proud of your work.
About The Author