Jonathan Rhys-Meyers cast in Mortal Intruments: City of Bones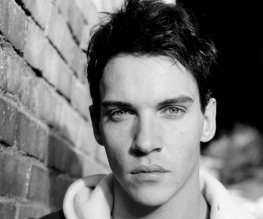 Lord do we love a good young adult urban fantasy. One day we're going to write a poignant and insightful piece on the human obsession with the supernatural and the winning Hollywood combination of hot teens + fighting + discovering destiny + ancient mythology + supernatural beings. But until then, we're just going to tell you about the latest film to emerge from this lucrative genre. Mortal Instruments: City of Bones is a New York fantasy series written by Cassandra Clare. Clary Fray is a 15 year old who discovers she's descended from an ancient race of Shadowhunters, some kind of species of half-angels who are sent to rid the world of demons. You can spot them because they're tattooed with ancient runes. Things kick off with her visiting a night club called Pandemonium (I mean, COME ON) and witnessing a murder only she can see.
It only came out in 2007 but Sony snapped up the rights straight away; Harald Zwart (he of Karate Kid) is set to direct and film is due for release next summer. Lily Collins (not to be confused with Lily Cole) will be playing the protagonist and Jonathan Rhys-Meyers has just signed up as Valentine Morgenstern, a Shadowhunter who's become something of a religious zealot in his purification of the Earth. Jamie Campbell-Bower (most famous for not marrying Ginny Weasley's Bonnie Wright) is Jace the local teen Shadowhunter hotty. Will it be terrible? Yes. Will we watch it anyway? Yes.
About The Author