Joss Whedon's Much Ado About Nothing gets a new trailer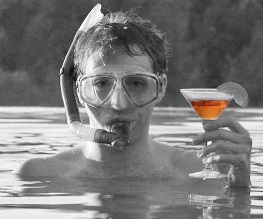 It isn't long now until Joss Whedon's Much Ado About Nothing lands in UK cinemas (roll on 14th June, right?) but, just to keep our excitement levels at an all-time high, the inimitable director has released a brand-new trailer for his retelling of the Shakespearean comedy.
Whedon's take on the 1598 script stars plenty of Whedon's most frequent collaborators. There's former Angel actors Alexis Denisof and Amy Acker as sparring lovers Beatrice and Benedick, as well as Firefly's Captain Mal Reynolds (Nathan Fillion) as police chief Dogberry, Sean Maher as the villainous Don John and Clark Gregg as Leonato.
So why did Whedon decide to make the film with some of his closest pals? For the same reason anyone would; to have fun, to unwind and to catch up with them in style:
"I missed my friends and I missed my home [when working on Avengers Assemble], so I decided to throw them all on camera which is the only way I seem to know to relate to people… I was blissfully happy when we were shooting Much Ado About Nothing."
"Here I was making absolute giddy ridiculous art with no expectations, and nothing but joy."
After seeing the entire body of Joss Whedon's work, knowing that this project brought him "nothing but joy" definitely helps push it into the "must see" category of 2013. And, as the writer and director is so highly esteemed for his excellent character development – even in a big action flick like Avengers Assemble – it seems inevitable that his work on this classic comedy, dependent on human interaction, is going to be a hit with his biggest fans. And, hopefully, forge him plenty of new fans in the process.
Check out the new trailer for yourself:
As students of Shakespeare will already be well aware, Much Ado follows the lives of two courting couples; there's Hero (Jillian Morgese) and Claudio (Fran Kranz), who are about to get married and are ridiculously in love with one another, and the sparring Beatrice and Benedick, whose constant bickering provides much of the play's amusement. Throw in plenty of complications, confusion, lies and a very possible chance of breakup and you have, in our eyes, a wonderfully captivating story.
So will Whedon and the Bard work well together? We think so, especially looking at that humdinger of a trailer; it just looks amazing, doesn't it? We DEFINITELY can't wait to see Much Ado About Nothing when it hits cinemas this summer!
Are you looking forward to seeing Joss Whedon's Much Ado About Nothing? Why?
About The Author