Julianne Moore joins Carrie remake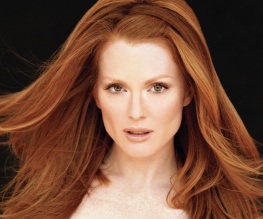 The Kids Are All Right star Julianne Moore has been cast as the domineering, fundamentalist crackpot Margaret White in Kimberly Pierce's forthcoming remake of classic Stephen King horror Carrie.
Margaret's lifelong abuse of her daughter, the eponymous Carietta 'Carrie' White, is influential in the development of Carrie's psychokinetic powers and the eventual disasters which befall her hometown of Chamberlain, Maine. Chloe Grace Moretz has been cast as Carrie herself – the role was originally made famous by Oscar-winner Sissy Spacek in Brian De Palma's 1976 adaptation.
Gabriella Zanna Vanessa Anstruther-Gough-Calthorpe, (very slightly) better known as Gabriella Wilde, has somehow shaken off the stigma of being in The Three Musketeers to land the pivotal role of Carrie's classmate Sue Snell.
Pierce is reportedly aiming to make a completely new adaptation of King's first novel rather than base her film on De Palma's version, so hopefully we can look forward to a fresh take on probably the scariest story ever to feature an entire scene of tampon-throwing. Carrie will open in the US on March 15th next year, although a UK release date has not yet been released.
What do you make of Julianne Moore's casting? Let us know below!
About The Author