Jurassic Park 4 confirmed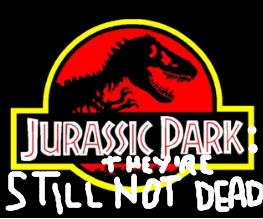 Just over a month ago, we posted a story about some dark, devious rumblings of a Jurassic Park 4 that could be stalking its way towards us. Well kids, we're sorry to say that it looks like it's all true. With Spielberg confirming the news at this year's comic-con, those poor old dinosaurs aint dead yet.
Whilst receiving the Inkpot award for his achievements in sci-fi, the cap-wearing wonder said, "We have a story. We have a writer working on the script, and I think we will see a 'Jurassic 4' in our foreseeable future, probably in the next two or three years."
According to rumour, Mark Protosevich (of Poseidon, I Am Legend) has been developing the story, though no word on whether he'll be the one writing the script. If were were going to try and scrape any positives from this, I suppose we could say that it'll be relatively cool to see what they can do dinosaur-wise with today's technology. But we really are scraping. Can't they just do a dinosaur film that ISN'T Jurassic Park, if they're that fussed?
Do you feel anything but a vague darkness inside? Let us know…
About The Author