Jurassic Park original producer moves onto Star Wars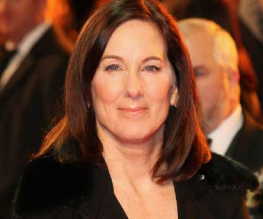 Steven Spielberg may be the directorial genius behind Jurassic Park and The Lost World: Jurassic Park, but it wasn't without a little help from a friend. Kathleen Kennedy has played a large part in making Jurassic Park the bona fide mega-franchise that it is today, acting as producer on each one of the films so far, including Jurassic Park III. But Kennedy's long-term producing partner Frank Marshall has recently struck down rumours circulating that Kennedy might return to work on Jurassic Park IV, tweeting: "No, Ms. Kennedy has moved onto Star Wars and will not be producing JP4. She's traded raptors for TIE fighters."
Kennedy's absence from Jurassic Park IV will certainly be felt, and it doesn't do any favours for the upcoming sequel. That being said, her involvement in the new Star Wars sequels will go a long way in building even higher expectations, considering Kennedy's rather brilliant producing track record. She's previously worked on Back to the Future, Schindler's List and War Horse, to name a few gold stars. This won't be her first venture into George Lucas territory however, as she's already co-chairman of Lucasfilm. Collaborating with J. J. Abrams, fans will now have even more to squeal about.
Nevertheless, Jurassic Park IV still has Spielberg returning to produce, with a director still to be announced. The film is due to hit cinemas in summer 2014, so err… better hurry up, guys.
Who do you want to see direct Jurassic Park 4? Let us know!
About The Author