Kate Hudson joins Wish I Were Here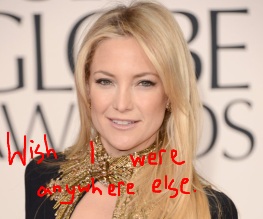 Having used the Kickstarter success of Veronica Mars as an excuse to not take notes, Zach Braff keeps adding names to his independent film, Wish I Was Here. Latest to sign on is Kate Hudson, who Braff professes to adore based solely on that one film she was good in that one time, Almost Famous. She'll be playing Sarah, the wife of Braff's Aiden Bloom ("[she] needs to be pretty," cries Braff on his Kickstarter page), and mother to his two children.
The story centres around Aiden, a disaffected thirty something (You mean basically an older version of his characters in Garden State and All New People? Yes. Exactly that.), who suddenly has to homeschool his kids after his father tragically starts refusing to pay for their private school education. Because everyone loves a story about a grown up who loses his free ride.
Already signed on for the project are certified awesome people, Mandy Patinkin, Josh Gad, Anna Kendrick, Jim Parsons, and Donald Faison. Having a excellent supporting characters surrounding a quite boring main character is becoming Braff's leitmotif.
Included in the announcement was the heartening news that Braff "can't stop smiling." NO ONE CARES. NO ONE CARES, ZACH BRAFF.
About The Author